Latest Soybean Meal Futures Prices
| Last Price | Chge | % Chge | Open | High | Low | Volume | OI |
| --- | --- | --- | --- | --- | --- | --- | --- |
| 366.5 | 4.6 | 1.24% | 372.1 | 372.1 | 366.5 | 127,600 | 439,189 |
Soybean Meal futures prices for 2020-10-16. End of day prices only.
Soybean Meal Futures Chart Forecast
Latest SM Futures chart forecast for Soybean Meal Futures. Prices for SM belong to our Commodity Futures Grains area, and are end of day only.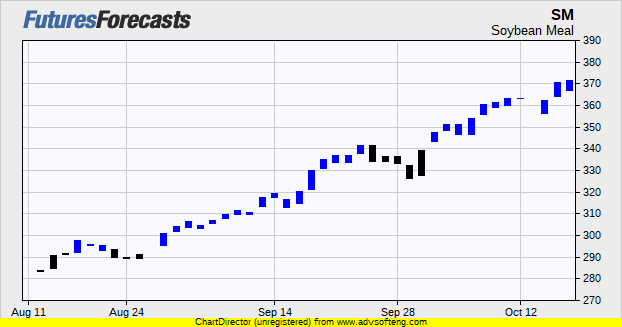 Soybean Meal Futures (SM) - Trend Forecast
Updated on 2020-10-16 for Todays Trading Session.
| Date | Signal | Price |
| --- | --- | --- |
| 2020-10-16 | Trend Up | 366.5 |
Our futures trend forecast has indicated another TREND UP forecast today showing continuation of buying momentum.
To read further about this forecast see Forecasts Explained
If the commodity or futures price has failed to break above the first TREND UP forecast bar within this current sequence, look for a breakout above soon.
If the futures prices are already above the first forecast bar, look for a continuation of intraday breaks above forecast bar highs for trend confirmation.
IN REVERSE, keep a look out for a trend failure (or reversal) with an end of day close BELOW the low of a previous days TREND UP forecast bar.
Today's Soybean Meal Futures Pivot Points
| Support 1 | Support 2 | Support 3 | Pivot Point | Resist 1 | Resist 2 | Resist 3 |
| --- | --- | --- | --- | --- | --- | --- |
| 364.63 | 362.77 | 359.03 | 368.37 | 370.23 | 373.97 | 375.83 |
Those who participate in Soybean Meal futures trading use pivot points to identify possible turning points in SM for the next trading day. Pivot points for SM futures prices are based on the previous days open, high, low and close prices. A simple calculation is then performed which provides you with possible support and resistance areas for futures trading. You can see pivot points for all other symbols within the Commodity Futures Grains section by visting each detailed price page.